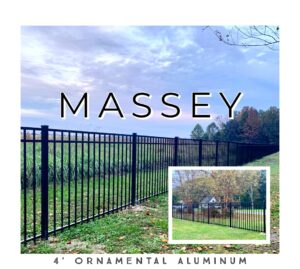 If you want an aluminum fence with a view rather than privacy this 4 foot black aluminum fence is the way to go. Massey can offer this highly sought after aluminum fencing from Alumiguard with the following features:
Aluminum fence by Alumiguard Aluminum is:
Maintenance-free

Available in 3 colors: Bronze, Black, and White

High-strength aluminum alloy.
Ornamental aluminum makes great pool fencing and adds a finishing touch to your home.
Call or Email Massey today for a FREE estimate!!