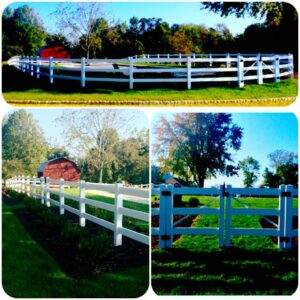 Click on photo to enlarge
Why vinyl split rail fencing for our horse farm? Experts say that vinyl is nearly 5 times stronger than wood. Vinyl is also very flexible, which makes it a good choice in Southern MD with weather conditions of strong winds, rain, and snow. Wood fences are more likely to break in such weather.
Massey is your preferred fence contractor in the Southern MD Counties of St Marys, Charles, Calvert or Southern Prince Georges.
Call or Email Massey Today for a FREE estimate!!