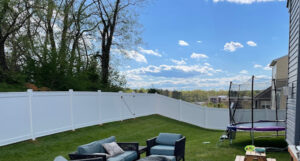 Click on photo to enlarge
This is what John of Southern MD said of Massey Fence in a Google Review:
Extremely friendly and professional company. Mr. Massey Sr. came out to give us our original quote which was very reasonable. We worked with his son for the actual measurement and building of the fence. Weather delayed construction a bit over the winter, but they kept in great contact sending out weekly status updates. Mr. Massey Jr. came out prior to his crews to complete the actual measurements and spent an hour with me finding the survey markers for our property, because I couldn't be at home on the day the crews were starting to meet with him. Once the job was started it only took two days to complete. Probably would have been done in one but it started raining and the crew stayed out working as long as they could. The fence turned out great and we are very happy with it. To top it off, only one week after the fence was complete, we had a huge storm roll through and tear apart a panel with high winds and debris. Called Massey minutes after it happened and he said he would try to have a crew out within the next few days to repair it at no charge since it was so new. The crew actual showed up that day, within hours of the damage and replaced the vinyl with new panels and reinforced them further. Was not expecting that level of service, thank you very much. Would highly recommend them if you are looking for a fence, great people to work with!
Call or email Massey today for your FREE estimate