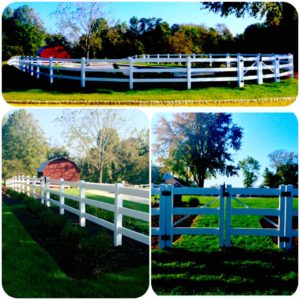 Massey Fence feels that vinyl fence posts are  the most important part of a fence. Fence posts must be strong and secure for a fence to withstand the elements over time.  Massey Fence recommends using concrete to install fence posts for a number of reasons.
Uniformity
Installing a vinyl fence in Southern MD requires uniformity.   Since the ground around a fence changes over time you need a foundation point for the whole fence.  Concrete establishes this foundation and uniformity by creating a firm base.
L

eaning or Sagging

Fences
Full-panel privacy fences have a larger chance of l
eaning or sagging

, so post installation with concrete is especially important.  Since they are solid the wind exerts more pressure on them.  Since the more surface area your fence has, the stronger your posts need to be and concrete accomplishes this.
Some build a fence without concrete so its easier to remove post if you change your mind about a fence.   Massey's goal for everyone is to build a fence that will last a lifetime so we recommend using concrete with vinyl fence posts.
Call or Email Massey for a FREE estimate today!!