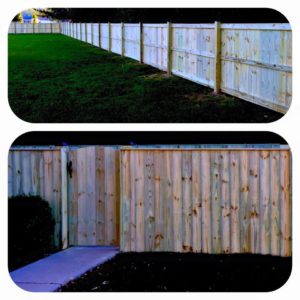 Click on Photo to Enlarge
When you get a new fence in Southern MD, have to consider your surrounding neighbors and the type of fence permitted in your neighborhood. Below are some things you should keep in mind before you go forward with the fence installation.
Define Property Lines
Do you know where your property begins and ends?  Your house's plat maps out your land. If you do not have this document, your county's records office could provide you one.  Or for a fee a land surveyor can determine your property lines and place stakes along the boundary.
Talk to your neighbor
You may not actually be required to talk to your neighbors about it if its within your property and meets neighborhood regulations.  You might find out that you and your neighbor can collaborate on the project and split the cost if they were already considering a fence.
Face the finished outside side of the fence toward your neighbor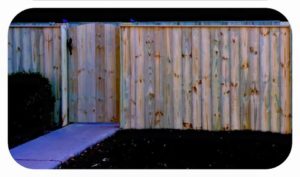 Continually maintain your fence
If your fence is treated wood maintenance will of course be more labor intensive than an aluminum or vinyl fence.
If you follow these guidelines you will find it easier to enjoy having a fence.  By informing your immediate neighbors you may find them eager to help you out.
Call or Email Massey Fence Today for a new Southern MD Fence Install!!